Conversion rate optimisation (CRO) is the data-driven process of optimising your website in order to create more conversions, such as sales or leads.
Tools such as Google Analytics make it possible to track the paths that users are taking to reach your site, otherwise known as 'funnel tracking'. Funnel tracking shows which sections of your site – and which actions – most commonly lead to conversion. It also gives a clear view of where users are typically dropping out. Asking your visitors directly using on-site surveys is another good way of getting insights into what they like and any bugbears they have with your site.
Once you have this information, there are a number of actions you can take in order to improve conversion. For example, you can better optimise your website's navigation structure, or test which layouts and content elements work best to encourage conversions.
We'll delve further into the sophisticated world of heatmaps, session tracking and split testing for CRO below, but the importance of CRO stands proud as a means of quantifiably turning your website traffic from just numbers into business.
Setting goals
Before we look at the ins and outs of CRO, it's important to first understand what your individual conversion goals are. It's likely that your business will want to generate profit, but the exact goals will be different for every company and may include:
Increasing overall sales, or for particular products/categories
Reducing cart abandonment
Increasing charity donations
Increasing sign-up (e.g. to a newsletter, event or subscription)
Increasing the number of visitors who complete a contact form
Increasing the number of visits to an important webpage
Increasing the number of downloads for certain documents
Each of these goals can be achieved in different ways. For example, to boost sales you might want to funnel traffic to high performing or seasonal e-commerce pages; and you could change content and design elements on the page to increase conversions. Or to improve sign-ups, you could test the language and positioning of the sign-up button to increase clicks, as well as the content of the sign-up box/page itself in order to encourage submissions.
Measuring current conversions
Here comes the science bit, as CRO isn't based on guesswork. You can use a number of tools to find out exactly what visitors are doing on your website, the likes of which will help you to determine which elements work and which could be improved on.
Heatmaps, such as those from Crazyegg and Mouseflow, show you where on a page the most activity occurs in a colour representation, with warm colours being the most active areas. They can highlight areas where users click on a page, or even where the eye is drawn, using eye-tracking technology. Scroll heatmaps are also useful for pages that are heavy on written content as you can see how far down a page users scroll, in order to improve content or adjust its length.
If heatmaps don't provide you with enough insight, page recordings almost certainly will, as they show real customers' journeys across a page. You can see where the cursor moves and what they click in what order, as well as text that is tapped where you could add a link.
And for businesses who rely on leads from their online forms, form analysis from the likes of hotjar can uncover the reasons why visitors abandon contact or download forms. Using all these insights in relation with the conversion funnel information from Google Analytics will give you a greater understanding of how visitors currently interact with your website. Now it's time to make changes to chase those conversions by testing what updates work best.
Using surveys for insights
The above tools help you see what is and isn't working, but to be sure of what your web visitors want, a good customer survey can provide specific reasons why people aren't converting. Let's say your contact form has high traffic, but a large percentage of people are leaving before they submit the form. This shows that some sort of action needs to be taken on the submission page – but how do you know what needs to be tested? Well, you can ask your customers in a short survey and identify their reasons for not submitting.
It's easy to set up an auto email to anyone who leaves the form without submitting it, asking if there was any reason why. Perhaps they felt like they had to give too much information, meaning you could simplify the form; or perhaps they clicked on the contact button by mistake, meaning you should optimise placement of the button.
The same action can be taken for cart abandonment on an e-commerce site. A prime example of re-marketing that works, you can send an email reminding customers what they still have in their basket. Plus the email can also be used to ask if there was any site-specific reason they changed their mind.
Testing for CRO
The final stage of your CRO process is changing the elements that you've found hinder your conversion goals. Split testing, or A/B testing, is a method of trying alternative design and content elements across different urls to see which version works best.
Changing one element at a time, you can tweak the wording, placement or colour of a CTA and send half the traffic to the new url, keeping the existing url as a control. Then, keep the highest performing page and continue to methodically update any other elements your surveys, heatmaps or form analysis unearthed.
Make your website work harder
Your website is one of your strongest assets for bringing in business, but in many cases it can work harder for you. CRO allows you to measure exactly what changes bring the greatest return, in order to systematically update pages. It doesn't have to be a big task as you can focus on your key pages first, and transfer what you learn to other pages over time.
If you need help with carrying out CRO on your website, get in touch with Ad-Rank today.
Creating an e-book is a significant undertaking for any business. From idea development to writing, design and promotion, e-books can be a drain on time and resources. Done well however, they have the potential to generate quality, high-value leads that result in a considerable ROI.
E-books can be a hugely valuable asset for both B2B and B2C companies, yet ensuring that your efforts are going towards something that generates real, valuable returns can be challenging. With that in mind, here are our top tips for creating e-books that attract warm leads that count.
Answer specific questions posed by your audience
One of the main aims of any e-book is to promote your brand as an industry specialist, or at the very least a knowledgeable voice within its niche. This begins with understanding not just who your audience is, but what kind of questions they're asking.
A little bit of audience research comes in handy here, and should be performed as early in as possible to shape and formulate your content plan going forward. Sites like Answer The Public are a great place to start, as is mining available data sources for the most common search terms users are inputting to find your site. From there, the focus should be on providing valuable solutions to the problems your audience face.
Leave the hard-sell tactics at the door
Effective content marketing practice prioritises informing your audience over selling to them. An e-book should be an opportunity to showcase your brand's knowledge and expertise, so use the space to build trust with your audience rather than offering them the hard sell.
Sure, you want the final e-book to showcase your brand in the best light possible, but the key here is subtlety. More often than not, focusing on providing your audience with the information they need is enough to give your brand credibility and effectively promote your services.
Consider gated content
E-books are a great way to introduce new and prospective customers to your brand, so should be free to access wherever possible. Even so, it's also true that gated content is a good way of weeding out time wasters and making sure your content gets seen by the most relevant leads possible.
If you do opt for gated content, consider including a lead magnet by asking users for their basic contact information (name, email address, job title) in return for the e-book. This value exchange will allow you to follow up with your readers directly and is a great way to grow your email list at the same time.
Design your e-book with the user in mind
Valuable, informative content is the primary component of any successful e-book, yet it shouldn't come at the cost of good design. Even if aesthetics are typically far down on your list of priorities, ensuring that your e-book is clear and user-friendly goes far. This will not only attract readers, but also encourage them to stay on the page and navigate from one piece of content to the next.
Along with developing effective lead magnets, designing your e-book with UX in mind is a key part of your lead generation strategy, and is all part of Conversion-Rate-Optimisation (CRO).
There are a whole host of resources online that offer guidance on e-book design for non-designers, although it's always recommended to seek the opinion of a professional if your budget allows. Your choice of font, colours, imagery and page layout all contribute to the overall user experience and should be high on your list of considerations.
Invest in promotion
Investing in promoting your e-book needn't be limited to a financial commitment – it's just as much about investing more time into the process. After all, even the most informative, well-designed e-book will be little use to your business if your audience isn't aware it exists.
By the time you've reached the promotion stage it's likely that you've already put a significant effort into perfecting your e-book, so don't be shy in shouting about it. Share the e-book across your social media channels, targeted email lists and, if your budget allows, consider paying for the content to be boosted on Facebook.
Track, monitor and learn from analytics
Where e-books really shine in comparison to printed content is the ability to include links and tracking features, allowing businesses to gain a clear view of their success. Insights into user engagement and interaction are invaluable when it comes to improving your strategy going forward and getting the most from prospective leads.
---
Creating an e-book can seem like a daunting investment for brands, yet follow a few simple rules and you'll stand yourself in good stead to generate the best return possible.
For more information on how we can help you to create effective e-books, get in touch with the team today.
Internal links are essential for any site's SEO. Having an internal link structure that is bad or just plain non-existent can be catastrophic to your website. But why?
Internal links serve several purposes. They drive visitors from page to page on your site, they help to establish a page hierarchy and they help to spread ranking power around.
If there are pages on your website which aren't linked to from any other page, visitors won't find them – meaning they have zero chance of converting. What's more, search engine crawlers won't be able to find them either. Crawlers browse your site by following links from page to page, so if you haven't added internal links that connect relevant content on your site, you haven't offered crawlers a way to access that content.
If crawlers can't find content, they won't display it in search results. It won't just be browsers already on your site that won't find it, no one will. These types of unlinked pages are known as orphaned pages, and until you implement an internal link strategy they will never achieve their full potential.
Passing link equity
The most important pages on your site, such as the homepage and key service pages, should attract high quality external links naturally. But a page further down the pecking order or a brand new page might not have any.
As such, internal linking gives you the opportunity to take link equity gained by the more powerful pages and spread it around.
By establishing a hierarchy whereby the most important pages link to the next most important, and so on and so on, you ensure that page ranking power isn't just focused in one place. A simple link structure starting with the homepage linking to key pages, which then link to supporting content, and finally down to additional information, would follow a structure similar to this graph from Moz: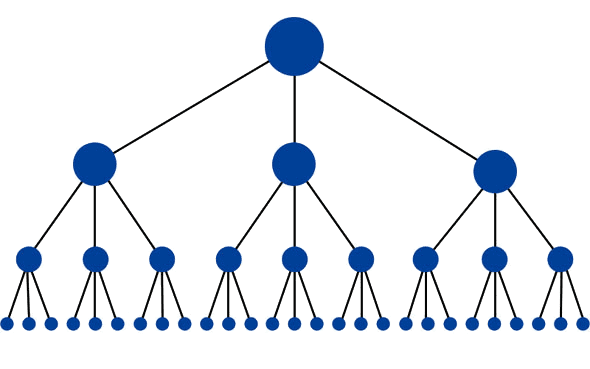 Pages with a lot of links on them pass on less value per link than pages which only have a few, so don't go mad and try to link to dozens and dozens of pages from every section of your site. Connect content that is relevant, and stick to a handful of internal links from each page to the related information.
Making sure crawlers can read your links
If your internal links are served in Javascript, Java applets, Flash or other similar plug-ins, it's likely they're completely inaccessible to search engines. Javascript links that do get read are likely to have been devalued, while links embedded in Flash and similar media formats are still a major stumbling block.
It's for this reason that using standard HTML links to connect your site pages is recommended.
When it comes to the number of links per page there are other things to consider than just the dilution of link equity, too. As well as knowing that 50 links on a page each pass less power than if there were only 10 links, be aware that search engines all have an approximate crawl limit of 150 links per page. Add any more than this and the crawler may not follow the additional links at all.
Best practice
Concentrate link value to the most important pages by streamlining your site navigation.
Organise your content around topics, and prioritise which pages get top-level focus and which ones will be found a few clicks down.
Keep user experience in mind at all times – good internal linking is designed to help human beings find and explore your content, not just search engines.
Use HTML links with descriptive, relevant anchor text.
Remember that without a good internal link structure, content that you've spent time and money on languishes in the form of orphaned content on your site, providing no return on investment. There are various best practice guides to internal linking around to help you keep things in check.
If you need help developing and maintaining a powerful internal linking strategy that allows you get the most from your content, get in touch.