The beginning of spring has echoed themes of change and progress throughout the digital sphere. From search engine updates to GDPR preparations, here are some of April's biggest headlines from SEO, content marketing and digital PR.
Google rolls out updated search algorithm
Mutters of a Google algorithm update have been heard throughout the search and marketing industry this month, and on April 16th we finally got the news we'd been waiting for. Announcing the news via Twitter, Google identified the change as a 'broad core algorithm update', the likes of which systematically take place at several points throughout the year. Even so, businesses across the globe have been eager to discover exactly what the update means for them.
The general consensus from Google is that these updates are an integral part of their work. While some users are expected to experience slight drops or gains in visibility during this time, the search engine is keen to reiterate that there is very little sites can do in order to prepare for such updates – aside, of course, from continuing to produce a steady stream of quality content.
"Changes to our systems are benefiting pages that were previously under-rewarded", Google SearchLiaison confirmed in a series of tweets last month. "There's no 'fix' for pages that may perform less well, other than to remain focused on building great content." More so than ever, it seems that investing in a solid content strategy is vital to securing and maintaining sought-after SERP positions.
Brands and businesses prepare for upcoming GDPR roll-out
If your inbox has been flooded with emails alluding to websites' updated terms of service this month, you're not alone. As we ease ever-closer to next month's General Data Protection Regulation (GDPR) launch, brands and social media giants have been scurrying to inform users of 'important updates' and secure their continued custom long after the GDPR laws are put in place on May 25th.
Perhaps the biggest change will be the regulation that customers will need to actively opt-in to their data being shared, as opposed to the opt-out system that many market leaders have favoured in the past. As a result, the influx of 'opt-in' emails and notifications witnessed over the past few weeks is only expected to grow. For many, however, the introduction of the GDPR brings about serious concerns around the future for businesses and marketing agencies on a worldwide scale.
"The world of digital marketing is increasingly reliant on collecting personal data for ad targeting, and this could severely impact their capacity to do so" highlights the Digital Marketing Institute. Even so, there's little scope to argue that the regulations are anything but relevant, useful and necessary – particularly in light of recent data protection scandals from the likes of Facebook and Uber. "It's important that business managers and digital leaders not only abide… but incorporate policies internally that support and sustain the same principles", the Digital Marketing Institute concludes.
Google Assistant named smartest personal search assistant
A new study from Stone Temple Marketing has unveiled Google Assistant as the 'smartest' personal assistant, beating the likes of Alexa, Cortana Invoke and Siri. Results may vary depending on your platform, however, as Google Assistant accessed on a smartphone proved slightly more accurate than the same programme operated on Google Home devices.
While Alexa proved one of the lesser able to deliver full and accurate responses, it took some consolidation in being named the most improved assistant when compared with results of a similar 2017 study. 12 months ago, Alexa attempted answers on just 19.8% of queries – rising to 53% this year. Perhaps surprisingly, it was Apple's personal assistant, Siri, which proved least competent in both attempting answers (40.7%) and ensuring those answers were full and correct (80%).
The study was conducted on a small sample of devices, with 4,952 individual queries being proposed to each assistant. While the results are far from comprehensive, there are many valuable takeaways from the study – including an insight into the rapid pace at which personal assistants are developing and improving in reliability.
The next couple of months look set to bring a great deal of change within the marketing, search and content sectors. For more information and advice on staying up to date with emerging trends, get in touch with WooContent today.
Let's cut to the chase – high-quality content is crucial to the success of your SEO strategy. If you fail to create engaging content, you risk spending a lot of time and money on a strategy that fails to deliver the rates of engagement and conversion you're pushing for. Worse than that, you may even risk alienating your target audience.
It's pretty crucial stuff, so we've decided to lift the lid on why high-quality content is so important, with some examples of who's doing it right. Read on to discover how to align content with your SEO strategy, before gaining some top tips on how to create quality content that resonates with your target audience.
The SEO landscape, then and now
The SEO landscape has changed dramatically over the years. Practices that were deemed effective in the early 2000s are now avoided like the plague by SEO experts. Flashback to the early days in SEO and keyword stuffing took centre stage, with the focus on producing keyword-centric copy rather than high-quality, user friendly content.
Fast forward to 2018 and best practices have changed significantly, with an understanding of search intent now being crucial. Emphasis is no longer placed on incorporating as many keywords as possible in your content in order to attract searchers, but rather on writing high-quality content that echoes their interests, anticipates their needs and answers their queries.
Google Hummingbird – shifting focus from keyword quantity to content quality
Major shifts in the SEO landscape can be attributed to the development of search engine technology. The release of Google's Hummingbird algorithm in 2013 was a significant turning point. The update was designed to help Google better understand semantic search and produce results that are directly relevant to the query's context, rather than honing in on singular keywords.
The Hummingbird algorithm also focuses on interpreting longer, more conversational search terms, providing results that correspond to user intent. This is particularly relevant to modern day voice search. In a nutshell, this major development resulted in SEO strategies shifting firmly onto the production of content tailored to user intent, or high-quality content seeking to solve searchers' queries in one easy hit.
5 steps for aligning good content with your SEO strategy
We know why good content is crucial to effective SEO, but how do we implement this in practice? We've put together 5 key steps to help you out:
#1: Keywords are still important
First things first, compile a list of keywords relevant to your brand.
#2: Think about user intent
What are your searchers actually trying to find? Let's say you sell shoes. Searchers will want to know who they're made by, what they're made of, how much they cost, how comfortable they are, and so on. Answer The Public is a useful tool for finding search terms that shed new light on user intent relative to your brand.
#3: Mock up an image of your page
Formulating a page layout will give you a clearer idea of what the titles on your page (headings, subheadings, etc.) should address. Using technology such as heatmaps will also give you a better idea of where CTAs and callouts should be placed, providing a frame of reference when drafting your content.
#4: Curate your content
You're now ready to start crafting your content. Don't make it all about your brand – stay focused on the key message you want to convey to your audience and make it about them. Then you can complement your content with keywords, terms and phrases relevant to your brand offering.
#5: Draw in the cool kids with an irresistible hook
Think about your USP here – what does your brand do better than the competition? What specialist knowledge can you impart on your audience? This final step is about infusing your content with a fresh, unique edge that will encourage engagement. Plus the top Google ranking factor is quality, original content.
Top tips for making your content stand out from the crowd
You're now equipped with the practical tools needed to ensure your SEO strategy is filled with good content. But the hard work doesn't stop here. We've listed a couple of top tips to make sure your content goes the distance:
• Develop an original brand voice
A great way of helping your brand stand out from the crowd, developing a unique voice will help you connect with your audience on a deeper level and create a following.
Fashion retailer Missguided is a great example of this. Their laid-back, quirky and cool tone fits perfectly with their targeted demographic and is used consistently across their website, newsletters and social media accounts.
Note how the use of words such as 'babe' create the feeling that they're talking to a best friend. This is isn't incidental, but a clever style choice designed to build a close relationship with their audience:
• Position your CEO as an expert in their field
Highlighting the skills of your company's CEO not only emphasises your brand's knowledge and expertise, it also helps create a human edge to the company – a great way to help increase organic engagement.
Beauty brand Birchbox is a great example. The company's founders, Katia Beauchamp and Hayley Barna, are an active presence in the company's marketing strategy, as shown in a video on their website celebrating two years in business. They also speak regularly to various media outlets on their skills and passion for their company. This coverage and intimate view into the company sets the brand apart from their rivals in the beauty sphere.
---
To sum up, if you incorporate high-quality, user-focused content in your SEO strategy you're well on your way to outshining your competition. Combine this with a fresh, distinctive brand voice and out-of-the-box thinking, and you've got it in the bag.
WooContent are experts in producing high-performing content and SEO strategies that deliver results. Get in touch with us today for more information on how we can help your brand excel.
Semantic trends have played an increasingly central role in search for some time. Algorithms now have the ability to take whole queries into account, rather than simply focusing on specific keywords. By doing so, search engines are able to delve deeper into the intent behind each query, delivering tailored, highly intelligent results.
2013's Google Hummingbird update marked a significant turning point for semantic search. For the first time, the technology required to understand the meaning behind specific searches was rolled out on a large scale. Rather than honing in on one or two keywords, the new algorithm was able to read and configure the meaning behind each query, denoting which results would be most relevant to the needs of the user.
Appetite for intent-driven, conversational search has only grown in the years following Hummingbird. In 2018, an understanding of the latest semantic trends is a vital component of any successful SEO strategy. With that in mind, here are seven ways to make the most of semantic trends and reap the benefits for your business.
Ramp up content production numbers
Quality over quantity is the first rule of content production in 2018, yet the latest semantic trends naturally favour sites that have a large pool of targeted landing pages. It's never recommended to produce content for the sake of it, but developing an ongoing content strategy that's centred around relevant, well-optimised content is incredibly valuable. Ensuring each page is specifically geared towards your niche gives search engines more opportunity to find and index your site for both short and long tail keywords, improving SERP visibility as a result.
Develop timely, news-worthy content
Alongside a string of evergreen pages, there's also value in regularly updating your website with more timely, news-focused content, that integrates of-the-moment search terms. Creativity is key, not least because you're likely to be fighting for valuable SERP real estate with your competitors. For that reason, keep a close eye on the latest news and events from within your industry and focus on producing unique content that's of genuine use to its audience.
Embrace voice and local search
Voice search is big news in the tech industry. Devices such as Google Home and Amazon Echo are working alongside the likes of Siri, Cortana and Alexa to bring voice search into our homes and offices on an unprecedented scale. Yet the way that we use voice search is different to more traditional search methods. Voice search queries tend to be more natural and conversational in tone, which in turn means they're usually longer than the succinct keyword phrases we're used to typing into search engines.
Voice search also has greater potential to be mobile, meaning queries are often local. For that reason, steps such as claiming your Google My Business listing and better optimising your site for local search are going to be hugely valuable in the long term. It's all about giving search engines – and therefore users – the best possible chance of finding your business when searching within the local area.
Answer specific questions
Semantic trends are placing a continuing emphasis on user experience. With that in mind, it's never been more important to ensure every piece of content is tailored toward your users, not just search engines. One way to do this is to consider semantics when developing page and content titles.
Conversational search is all about targeting those long-tail keywords that are commonly put into Google. Queries that start with 'how to…', 'what is…' and 'why does…' are likely to drive site traffic in light of recent search trends. But do use them alongside other short-tail keywords to keep the tone and style of your content as natural as possible.
Establish your website as an authoritative voice within its niche
Even in light of changing search trends, Google continues to point to authoritative sites as a priority. There's huge value in producing quality content that secures your brand as a trusted voice within its niche. This means developing content that is useful, insightful and relevant. Steer clear of branded sales tactics in favour of using phrases that align semantically with user intent.
It's also useful to optimise your content for related or associated keywords. Engaging in well-structured keyword research is crucial here, as understanding more about the keywords your audience is commonly using will help provide search engines with the context they need to index your site effectively. For instance, an online camera repair shop may also develop content around photography tips, equipment, lighting and studio set-ups.
Create content that inspires engagement and discussion
The end goal of any user-led content strategy should be increased organic engagement. The more buzz that your post generates, the more attention it will receive from semantic algorithms, the likes of which favour content that users are interacting with. Visual content such as videos and infographics aren't going anywhere, with video alone representing 74% of all internet traffic last year. With that in mind, committing to developing a creative marketing strategy that utilises both visual and written content continues to be a good move.
Consider FAQ and Q&A pages
Dedicating a page to answering the questions most commonly posed by your users is a great way to optimise your site for long-tail keywords. As semantic search takes a firmer grasp on the wider search landscape, such queries are becoming increasingly common. For instance, succinct keyword terms such as 'prom dresses uk' are likely to decline in favour of detailed long-tail queries (ie. 'Where can I buy blue satin prom dress in west London?') The end goal is to rank for as many long-tail keywords that are relevant to your niche as possible. As such, FAQ and Q&A pages are a great way to rank for the conversational terms your users are most frequently searching for.
---
Current semantic trends are an indicator of Google's wider goal – to place user experience and intent at the very heart of the search process. While changing algorithms and search preferences may initially be seen as a hindrance to ongoing SEO strategies, they should instead be viewed as an opportunity to move with the latest trends and stay one step ahead of the competition.
For more information on how we can help you make the most of search trends, get in touch today.
Facebook has had a particularly busy start to 2018, announcing a string of updates that have the potential to significantly alter news feeds and advertising. While Facebook's commitment to improving the user experience seems unwavering, questions remain around what these changes mean for brands and businesses.
Those that have long relied on the platform as a means of promotion and a way to engage directly with consumers are likely to feel the impact most. But what exactly has been announced, and what do Facebook's updates mean for your business in 2018?
News feed algorithm alterations
Perhaps the biggest update of all came in January, when Facebook announced it would be rolling out an amended news feed algorithm that favours content from friends and family, as opposed to brands, businesses and news outlets. In a seemingly direct response to the criticism the platform has faced around the 'fake news' controversy, founder Mark Zuckerberg outlined the plans in a blog post at the beginning of the year.
"You'll see less public content, including news, video and posts from brands", Zuckerberg explained. "After this change, we expect news to take up roughly 4% of News Feed – down from roughly 5% today". Such statistics seem small, but consider that 510,000 comments, 293,000 statuses and 136,000 pictures are uploaded to the site every minute, and it becomes clear just how significant this percentage drop will be.
Page insights updates
Another update was announced last month that has potentially big results for brands and advertisers using the platform. Facebook plans to remove as many as 20 metrics from their business analytics pages, deeming them to be "redundant, outdated, not actionable or infrequently used".
Facebook has marketed the plans as a step towards increased transparency for brands and business owners, giving users the tools needed to hone in on the metrics that really matter. Regardless of your feelings towards the removal of long-standing metrics such as page mentions and social impressions, the update serves as another sign that Facebook is radically altering its approach towards businesses that use the platform.
What the updates mean for businesses
While every business is likely to view the changes differently, there's no shying away from the fact that they promise to have a significant impact across all sectors.
John Ridding, Chief Executive of the Financial Times, criticised the update, commenting that "quality content will no longer be an option" if no sustainable solution is found to the problems posed by the rise of so-called 'fake news'. Instead of the changes proposed, Ridding suggests implementing "a valuable subscription model on platforms that enables publishers to build a direct relationship with readers and to manage the terms of access to their content".
In many ways, the updates mirror changes that are happening across the wider web. Search engines including Google have been taking steps to promote quality content that's of the highest value to its audience. Facebook is following suit in its attempts to put user experience front and centre, adopting a mantra of 'quality over quantity' with regard to the content they promote.
In theory, brands who actively create engaging, shareable content should still be able to thrive under the new algorithm, however there are of course some additional limitations to consider. Posts that encourage organic engagement are still likely to perform better than those that don't. However, getting the content seen in the first place is likely to pose a bigger problem than before.
How to make the updates work for you
Focus on producing quality content that appeals directly to your audience. It's no longer enough to rely on a big budget and let boosted ads do the hard work for you. Instead, everything you produce should meet the needs of your audience in order to encourage valuable organic engagement.
Alternate the ways that you use Facebook. Consider channels such as Facebook Live, which the brand's Head of News Feed, Adam Mosseri, promotes as a valuable way for brands to boost engagement. "Live videos often lead to discussion among viewers on Facebook – in fact, live videos on average get six times as many interactions as regular videos". Facebook has been quick to confirm that posts generating conversation will continue to rank most favourably, so it's worth exploring different avenues in a bid to encourage engagement.
Of course, there's always the option of investing in alternative channels and methods to help boost growth. While many businesses rely on social as a means of connecting with audiences, exploring other avenues such as PR and content marketing can certainly help to bridge the gap for those who have historically used the platform for brand awareness and promotion.
For more information or to discover how Ad-Rank can help to protect the interests of your business, get in touch today.
We're already a quarter of the way through 2018, and search engine and social media giants are pushing boundaries in the name of improving user experience. From shoppable social media posts to drastically condensed search results, here's the biggest marketing news from digital and SEO in March.
Facebook's Mark Zuckerberg announces security changes in light of Cambridge Analytica scandal
Facebook's association with data mining company Cambridge Analytica has made global headlines this month, as it's been suggested that data gathered through the platform may have been used to influence elections. The news has once again thrown into question just how secure our online data really is.
In light of the scandal, Facebook founder Mark Zuckerberg this month announced plans to strengthen security and reduce the likelihood of third-party apps being able to access personal data. Key changes include a thorough investigation of both new and existing apps that use the platform, as well as further restrictions on the amount of data developers are able to access.
"We have a responsibility to protect your data, and if we can't then we don't deserve to serve you", explained Zuckerberg in a statement posted on the platform this month. Despite this, many have continued to call for a boycott of the social networking site, with '#DeleteFacebook' trending on Twitter throughout the latter half of March.
Google introduces mobile-first indexing to a growing number of sites
As promised, Google's revised mobile-first algorithm was rolled out to more sites this month, with affected developers and site owners notified of the change via Search Console. Sites that "follow the best practices for mobile-first indexing" are the first to be switched, according to a blog post from Google Software Engineer Fan Zhang. The change follows a long period of testing, as the search engine prioritises mobile users, which currently contribute to the majority of traffic on the platform.
Sites that are affected will begin to see the mobile version of each web page being used for ranking and indexing. Even so, Google is keen to reiterate that mobile-friendliness is just one of a range of ranking factors. Sites that offer users a seamless mobile experience have long been favoured by search engines, yet desktop pages still have the capacity to rank well if they're filled with useful, relevant information. Check out our guide to mobile optimisation for handy tips when preparing for the full roll-out.
Instagram rolls out shoppable organic posts
Facebook-owned social sharing app, Instagram, this month announced it was bringing its shoppable post feature to the UK. Shoppable posts have been available in the US since 2017 and were this month rolled out to Brazil, Canada, Italy and Spain, among others.
A blog post from Instagram's Business Team describes the feature as "a visual shopfront [for users] to explore new products from businesses they follow". The feature is expected to have a positive impact on businesses that use the app as part of their digital marketing strategy. "Tagging a product is as simple as tagging a person in a post. And for shoppers, a shopping post's tags get rid of the guesswork and allow for easy access to a tagged product's information".
This focus on providing users with a seamless e-commerce experience is crucial to Instagram's growth. US beauty retailer TYME have reported a 44% increase in traffic from the platform since implementing shoppable posts into their feed. And with an estimated 2 million Instagram accounts visiting one or more business profile every day, it's likely that UK brands will be just as keen to get in on the action.
Google experiments with removing organic search results
Google ran a week-long test this month that saw zero search results being implemented for calculation, conversion and time-related queries. Instead, users were presented with a single answer and the option to 'Show all results', without those organic blue search result links we've become so accustomed to seeing on the site.
Following a rush of intrigue from users, Google's Danny Sullivan confirmed the test on Twitter, posting "For calculator, unit converter & local time, we're experimenting with a condensed view to further speed up load time. People who search for these tools rarely use full search results, but the results will remain available for those who want them via the 'Show all results' button".
The experiment didn't last long, however, with Google pulling the zero results pages a week after they were rolled out. Citing a need to develop the feature further before rolling it out in full, it's expected that it won't be the last we hear of Google dropping organic results from specific pages.
For more information on any of the stories discussed, or to discover how Ad-Rank can help your business to stay ahead of the latest trends in search and content, get in touch today.
There's no denying that Artificial Intelligence (AI) is changing the way in which we use technology. In October 2015, Google announced the roll-out of an AI algorithm called RankBrain that generates responses to search queries. Since then, this machine-learning system has continued to impact the digital marketing landscape and the way sites are optimised for search.
In fact, RankBrain is the third most important ranking signal after quality content and natural links, and is sure to play an even bigger role in the future of marketing. Here's a closer look at what RankBrain is, how it came about and what you need to do to make sure your site is optimised for AI in 2018.
What is RankBrain?
RankBrain is a machine-learning algorithm that uses AI to filter and sort search queries in Google. It also works to assist Google to better understand search queries, particularly uncommon words and terms. RankBrain is unique in that it learns from users and updates itself rather than following a set of programmed rules. It can alter the importance of content length and freshness, backlinks and domain authority, depending on the keyword.
RankBrain also helps to measure user experience (UX). It assesses how people are using Google to search and how they respond to the results. It does this by looking at common UX signals, such as click-through rate, time spent on the page, bounce rates and 'pogo-sticking' – a term Google uses to describe the process of clicking back and forth on different SERPs.
How does it work?
Using mathematical processes and a sophisticated understanding of language semantics, RankBrain can recognise what the searcher is asking – much like a human. It does this by matching never-before-seen keywords with keywords that Google has dealt with, to provide users with the most relevant results.
If it's unsure what a search term means, it uses AI to find similar words and phrases to better understand the purpose of the search, providing results based on what it thinks the user is looking for. However, it's worth bearing in mind that RankBrain is only called into action when Google is unsure of the meaning of the keyword.
Human engineers and RankBrain work simultaneously on Google algorithms. However, RankBrain has the ability to change and update the algorithm autonomously. To highlight how effective it is, Google tested human engineers against RankBrain by asking them to predict the best pages for a search term. They found that RankBrain was accurate 80% of the time, while human engineers were right just 70% of the time.
How did RankBrain start and how has it progressed?
In 2013, Google announced that 15% of the keywords being typed into search everyday had not been seen before. Prior to RankBrain, all of Google's algorithms were hand-coded and would work by scanning pages to try and match the exact keywords used in the query. As some of the keywords were new, Google would have to make guesses as to what people were searching for. As such, Google needed a more accurate way to interpret these new search terms – and that's when RankBrain was introduced.
When it was first rolled-out in April 2015, RankBrain was only used for a small number of search queries (approximately 15%). Now, almost three years later, it's one of the most influential ranking signals. Google has even said that it's applying almost all search queries to RankBrain, and claims that RankBrain impacts the search result rankings in 'a lot of queries'.
How does this impact SEO in 2018?
There's no denying that AI is changing the way we look at digital marketing. Over time, it's bound to have an even greater impact as technology evolves. While you may not be able to specifically optimise for RankBrain, there are plenty of easy ways to stay ahead of the curve and deliver successful SEO campaigns now and in the future.
As Google's webmaster trends analyst Gary Illyes has pointed out, one of the best and easiest ways to ensure you are optimised for RankBrain is with natural content that sounds human. As the purpose of RankBrain is that it replicates what a human can do, it makes sense that content is written in a conversational way.
Keywords are another important consideration. While traditional keyword research is not obsolete, you may need to adjust your process to ensure it's RankBrain-friendly. For example, creating lots of different pages optimised around different keywords is now largely considered an outdated practice.
Instead of long-tail keywords, using logical keyword groupings and topics is seen as far more natural and useful. This technique will also benefit voice search, which is growing in popularity every year. Studies show that 20% of mobile users now use voice search and this is expected to increase.
Like most new Google features, RankBrain will continue to adapt and develop over time. By keeping up to date with the latest advancements in AI and adjusting your SEO marketing strategies accordingly, your site will stand a much better chance of ranking highly on Google.
---
If you need help keeping your SEO strategies up-to-date, don't hesitate to contact us today.
Thanks to its association with all things romance, brands and businesses have been competing to encourage feelings of love from their users in February – often with mixed results. With some Google updates thrown in for good measure, here's a run down of February's biggest headlines in marketing, content and SEO.
Google launches Mobile Scorecard and Impact Calculator
Back in January Google announced plans to make mobile page speed a key ranking factor from July, preparation for which stepped up a gear this month. The search engine recently unveiled two new tools that promise to give brands a better view of their mobile performance.
The first is aptly named the Mobile Scorecard. Here, users are able to gain an insight into their site's mobile speed, as well as that of their competitors. According to Google, the tool extracts data from the Chrome User Experience Report to provide information on mobile speed for thousands of websites across the world.
Alongside the launch, Google has also announced a new Impact Calculator, which promises a real-world view of how much your bottom line stands to increase should mobile speed be improved on your site. By giving users a clear idea of the kind of revenue impact that mobile performance can have, the search engine can begin to encourage businesses to invest in improving mobile speed ahead of July's algorithm update.
Search outranks social in referral traffic for the first time since 2014
Search has once again taken the lead as the web's primary source of referral traffic, outranking social for the first time in three years. According to a recent report from Shareaholic, search was the driving force behind 34.8% of referral visits in 2017, compared to social's 25.6%.
It's perhaps unsurprising when you consider the rise of 'fake news' that has plagued social media channels over the last 12 months. Shareaholic's Craig Zevin also points to the growing ability of search engines to include social content within their own rankings, commenting "Instead of searching for news and content on individual social networks, users can increasingly find it aggregated within search engines."
Multifaceted featured snippets make Google debut
Google has long been associated with a desire to better improve its user experience features, with a commitment to delivering fast, targeted results to common search queries. When the queries are broad or open to interpretation however, the process can become more difficult. It's just one of the reasons the search engine this month announced the launch of multifaceted featured snippets – providing multiple snippets that relate to the potential interpretations of any one query.
"We're starting first with 'multi-intent queries'", explains Google's Product Management Director of Search, Emily Moxley. "The query 'tooth pain after filling', for example, could be interpreted as 'Why does my tooth still hurt after filling?' or 'How long should a tooth hurt after filling?'… [Then] we aim to expand multifaceted feature snippets to cover a broader set of nuanced queries."
The results are expected to be rolled out across the platform over the coming months.
KFC ruffles feathers with tongue-in-cheek marketing apology
Fast food chain KFC hit the headlines for all the wrong reasons this month, when over 50% of UK branches closed due to a chicken shortage. However, some clever PR tactics helped the brand to make memories for all the right reasons. Less than a week after the shortage, KFC printed a full-page apology in both the Sun and Metro, putting a clever spin on their own brand name.
"FCK. We're sorry" was the strapline of the campaign, which won critical acclaim from marketing professionals across the country for its timeliness, as well as the brand's ability to poke fun at itself in the face of criticism. While the chicken shortage is unlikely to be remembered in 12 months time, such a well-known, recognisable brand playing upon the power of profanity promises to stay with audiences for a while yet.
Facebook cuts key business metrics in a bid to improve transparency
Social media giant Facebook has announced plans to remove approximately 20 ad metrics that they perceive to be "redundant, outdated, not actionable or infrequently used". A full list of those pending removal can be found on the Advertiser Help Centre, with key losses including 'button clicks' and 'social reach' metrics, both of which Facebook has been quick to suggest alternatives for.
"Removing these types of metrics will make it easier for you to get the most actionable insights to improve your ad performance", Facebook explained in a blog post this month. It's just one of the ways that Facebook are showing a commitment to greater ad transparency, both from the perspective of users and the brands themselves.
---
In just two months, 2018 has already seen huge changes within the search, content and marketing sectors. For more information on how Ad-Rank can help you stay up to date with the latest trends, get in touch today.
As popularity in voice-operated devices grows, so too does the use of voice search. Google Assistant, Amazon Alexa, Siri and Microsoft Cortana are all paving the way for new voice-centric strategies within the world of marketing.
In this blog, we look at what voice search could mean to SEO specialists and content marketers, before exploring ways to prepare for the potential impacts of voice search.
What do we know about voice search so far?
Well, we know that popularity in voice-activated devices is growing at a rapid rate. In a report from Technavio via Skyword, it is estimated that "by 2019, the voice recognition market will be a $601 million industry".
According to Google Trends via Search Engine Watch, "Google voice search queries in 2016 were up 35 times over 2008". And in 2016 alone, eMarketer recorded a sizeable increase in voice search of 128.9%.
Research and estimates concerning this area largely point to the same assumption – voice search is gaining popularity with considerable speed.
Surely with these figures in mind, we can assume it's safe to invest in voice-search strategies?
This is an obvious assumption to make, but no one can say for sure the extent to which marketers will be able to capitalise on voice search. However, what smaller studies and industry insiders have indicated is that a key element of the voice search revolution is user intent.
Google's 2013 Hummingbird update brought with it a bigger focus on the implied meaning of search queries. So Google is already pretty good at dealing with voice search queries through the introduction of natural language processing technology across its products and verticals. That's before we even consider the advent of Google's machine learning AI, RankBrain.
One of the biggest things that SEO strategists can do right now is to make sure content is natural, mirroring voice search behaviours, and provides answers to specific search questions. As an added bonus, if you optimise your content for voice search you're also optimising it for featured snippets. Featured snippets could increase your chances of being the chosen answer for that query when it's searched for using voice.
Here's how you can fit voice search into your content and SEO strategy now.
Differences between voice search and text search
Text searches
Text-based searches evolved as a way of getting answers quickly through basic search terms, so can be compact and omit grammatical constructs. We've become accustomed to searching in this less natural way in order to get and refine our search results. Likewise, over the years Google has adapted to get better at understanding the meaning or intent behind generic, even if they're one-word search queries:
Short-tail keywords
If we search for "Sushi", Google knows we might want restaurants, recipes or just information. Therefore, it will bring up a map with local sushi places to eat, as well as a definition and, further down the results, some recipes.
Long-tail keywords
"Sushi restaurants London"
Long-tail keywords are also used in text searches, when the searcher wishes to obtain more specific search results. Therefore, they'll include more search terms, however grammatical constructs and elements of natural language pattern are still generally omitted with text searches.
Voice searches
In contrast, voice searches are a more natural way of searching, as the user feels as though they're talking to a real assistant. Voice searches are more focused on semantics, more conversational and usually more detailed. They use both long-tail keywords as well as short-tail queries, but generally voice searches include more interrogative terms such as "who", "what", "where", "why" and "when". Campaign reported a 61% year-on-year growth in consumers making longer question queries that start with these words.
Short-tail keywords
A searcher might ask an voice-activated assistant "What's sushi", using a question term. Google knows that they require a definition.
Long-tail keywords
 "What is the best Sushi restaurant in London?"
When further keywords are added in, such as a qualitative terms like "best", Google attempts to rank the restaurants. And the local search term "London" gives Google an indicator to bring up results only in this area.
Impacts of voice search on the marketing sector
SEO and content marketing is already being impacted by the growing popularity of voice search. Estimates via Social Media Today suggest 50% of people are now using voice search when researching products, whereas SEO strategies largely remain tailored to text searches favouring short-tail keywords.
As they put it, marketers need to: "Think less about keyword stuffing and meta tags and more about full sentences and conversational copy." Answering search queries with quality content should already be the backbone of any content strategy, but the change is to a more natural tone that reflects spoken language.

Key steps to take
Other steps to take in order to accommodate voice-search requirements into your strategy include:
Does your strategy focus on local SEO? Chitika's research director Dan Ruby stated mobile voice-related searches are three times more likely to be local-based than text, so now's the time to consider incorporating voice-search-relevant local SEO into your strategy.
Focus on keyword intent, not the keyword itself
Due to the more conversational tone of voice search, the focus in your marketing strategy needs to be based on user intent behind a search term. This is because a user journey might start with a short-tail keyword such as "Where's my local chip shop?", before moving on to a more specific question with long-tail keywords, such as "Is there a Norwich chip shop that's open on Monday lunchtime?"
Keeping your content as comprehensive as possible will mean that it targets primary terms as topics and includes all relevant topics and sub-topics. You can do this by analysing a particular user journey and focusing on creating pages with a purpose that matches the intent of traffic to the page. So, whatever someone wants to know about chip shops, you have the answer on a particular page of your website, from location to opening times, in a way that's technically optimised.
Review your preferred marketing approach – could your current strategy be fitted more astutely to voice search requirements? Carrying out a content audit will allow you to see how users currently interact with your content. And now you know how voice search is changing that to a more question-based natural form of search, you can integrate content elements that fit more closely with it.
To sum up…
While it's certainly a challenge to prepare for an impending trend as huge as voice search without that much clear-cut data out there to go by, it's crucial for SEO and content marketing specialists to get to grips with the nuances of voice search and be prepared. Voice is here, and evolving all the time, just as the SEO landscape evolves with it.
WooContent are well-versed in helping clients stay one step ahead of SEO trends and incorporating them into your content plan. Get in touch with us today to see how we can best support you.
Internal links are essential for any site's SEO. Having an internal link structure that is bad or just plain non-existent can be catastrophic to your website. But why?
Internal links serve several purposes. They drive visitors from page to page on your site, they help to establish a page hierarchy and they help to spread ranking power around.
If there are pages on your website which aren't linked to from any other page, visitors won't find them – meaning they have zero chance of converting. What's more, search engine crawlers won't be able to find them either. Crawlers browse your site by following links from page to page, so if you haven't added internal links that connect relevant content on your site, you haven't offered crawlers a way to access that content.
If crawlers can't find content, they won't display it in search results. It won't just be browsers already on your site that won't find it, no one will. These types of unlinked pages are known as orphaned pages, and until you implement an internal link strategy they will never achieve their full potential.
Passing link equity
The most important pages on your site, such as the homepage and key service pages, should attract high quality external links naturally. But a page further down the pecking order or a brand new page might not have any.
As such, internal linking gives you the opportunity to take link equity gained by the more powerful pages and spread it around.
By establishing a hierarchy whereby the most important pages link to the next most important, and so on and so on, you ensure that page ranking power isn't just focused in one place. A simple link structure starting with the homepage linking to key pages, which then link to supporting content, and finally down to additional information, would follow a structure similar to this graph from Moz: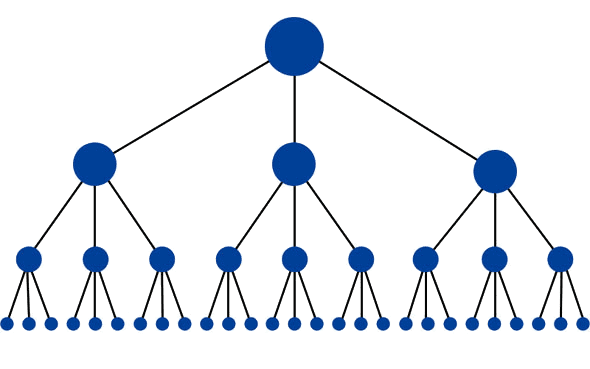 Pages with a lot of links on them pass on less value per link than pages which only have a few, so don't go mad and try to link to dozens and dozens of pages from every section of your site. Connect content that is relevant, and stick to a handful of internal links from each page to the related information.
Making sure crawlers can read your links
If your internal links are served in Javascript, Java applets, Flash or other similar plug-ins, it's likely they're completely inaccessible to search engines. Javascript links that do get read are likely to have been devalued, while links embedded in Flash and similar media formats are still a major stumbling block.
It's for this reason that using standard HTML links to connect your site pages is recommended.
When it comes to the number of links per page there are other things to consider than just the dilution of link equity, too. As well as knowing that 50 links on a page each pass less power than if there were only 10 links, be aware that search engines all have an approximate crawl limit of 150 links per page. Add any more than this and the crawler may not follow the additional links at all.
Best practice
Concentrate link value to the most important pages by streamlining your site navigation.
Organise your content around topics, and prioritise which pages get top-level focus and which ones will be found a few clicks down.
Keep user experience in mind at all times – good internal linking is designed to help human beings find and explore your content, not just search engines.
Use HTML links with descriptive, relevant anchor text.
Remember that without a good internal link structure, content that you've spent time and money on languishes in the form of orphaned content on your site, providing no return on investment. There are various best practice guides to internal linking around to help you keep things in check.
If you need help developing and maintaining a powerful internal linking strategy that allows you get the most from your content, get in touch.
With an ever-increasing number of people using smartphone searches, coupled with Google's upcoming mobile-first index, it's more important than ever that websites are optimised for mobile. While mobile-friendly sites have been in the digital marketing sphere for some time, this year the trend will become even more prominent.
Since the announcement of the gradual roll-out of the mobile-first index in 2016, Google has made it clear that if you don't have a quality site for mobile, it won't make it to the top pages. In other words, if it doesn't have a responsive layout, has a slow page loading speed and a poor navigation structure, your rankings will suffer. This is particularly important for businesses that only have a desktop site, or those that have thin SEO content on their mobile site.
If you want to generate good leads, reduce bounce rates, boost conversions and achieve a top position on SERPs, now's the time to optimise your site for mobile. Here are some useful ways to do this in 2018:
Check your page loading speed and choose a responsive web design
A Study has shown that 53% of mobile users abandon a site if it takes more than three seconds to load. When you add this to the fact that Google has just announced that page speed will be a ranking factor for mobile-first indexing from July 2018, it's crucial that mobile sites load quickly and respond quickly to user interactions. To check your site's loading speed, you can use various Google tools to test different pages such as PageSpeed Insights and Chrome User Experience Report.
To ensure that your site is compatible with mobile, you should use a web developer who has experience in responsive website design. This can help to create a smooth browsing experience and keep mobile users engaged for longer, which in turn can generate leads and boost your conversion rates. You can also use open source initiatives like AMP (Accelerated Mobile Pages) to create a fast and high performing website.
Manage your content for mobile
We already know that content is vital for rankings – and this is true for mobile too. The good news is that there are plenty of simple ways to get your site's content up to scratch and ready for the mobile-first index.
Your first port of call should be to make sure that the content is easy to read and clear on smaller screen sizes. You may also choose to add some links in long text so that users can get to where they need to be, and use headers to break up the page and make it more visually appealing.
Text size and touch elements are also key for mobile. There's nothing more frustrating than missing the button or repeatedly touching the wrong one because it's too small. To overcome this, make sure that tap targets are suitably sized and provide enough space between elements. This can make the site much easier to navigate on a mobile, which in turn can increase conversion rates.
You'll also need to develop your content around mobile-friendly keywords. These are usually long-tail keywords that seek an answer, and often start with who, what, where, when and why. It's also worth bearing in mind that a significant number of people are now using voice search. In fact, studies show that around 20% of mobile searches are now voice search, which is expected to increase. Taking this into account, you'll need to think about how people speak and ask questions in order to optimise your content to reflect these queries.
Focus on user experience
A common mistake businesses make is having a site for desktop and then adjusting it for mobile. Rather than treating it simply as an extension of desktop, you need to make mobile your prime concern. After all, the majority of your customers will now be accessing your site via smartphones, so it makes sense to prioritise the mobile experience. To analyse user behaviour, you can use Google Analytics device reports.
To comply with the mobile-first index, businesses should carry out a thorough audit of the mobile user experience on their site. There are several important questions to ask yourself when doing this. For example, how user-friendly is my site? How easy is it to find information? Is it simple to navigate? Are my contact details easy to find? Do I need to minimise pop-ups? Optimising all of these areas can have a significant impact on user experience, especially on small mobile screens.
As Google's mobile-first index becomes more widespread and developments in smartphone technology continue to evolve at a rapid pace, mobile optimisation will be at the forefront of most digital marketing strategies this year. By following simple steps like these and focusing on providing an excellent mobile experience for your audience, you'll stand a much better chance of staying ahead of the competition and ranking highly.
If you need help optimising your site for mobile for 2018 and beyond, get in touch today.