Internal links are essential for any site's SEO. Having an internal link structure that is bad or just plain non-existent can be catastrophic to your website. But why?
Internal links serve several purposes. They drive visitors from page to page on your site, they help to establish a page hierarchy and they help to spread ranking power around.
If there are pages on your website which aren't linked to from any other page, visitors won't find them – meaning they have zero chance of converting. What's more, search engine crawlers won't be able to find them either. Crawlers browse your site by following links from page to page, so if you haven't added internal links that connect relevant content on your site, you haven't offered crawlers a way to access that content.
If crawlers can't find content, they won't display it in search results. It won't just be browsers already on your site that won't find it, no one will. These types of unlinked pages are known as orphaned pages, and until you implement an internal link strategy they will never achieve their full potential.
Passing link equity
The most important pages on your site, such as the homepage and key service pages, should attract high quality external links naturally. But a page further down the pecking order or a brand new page might not have any.
As such, internal linking gives you the opportunity to take link equity gained by the more powerful pages and spread it around.
By establishing a hierarchy whereby the most important pages link to the next most important, and so on and so on, you ensure that page ranking power isn't just focused in one place. A simple link structure starting with the homepage linking to key pages, which then link to supporting content, and finally down to additional information, would follow a structure similar to this graph from Moz: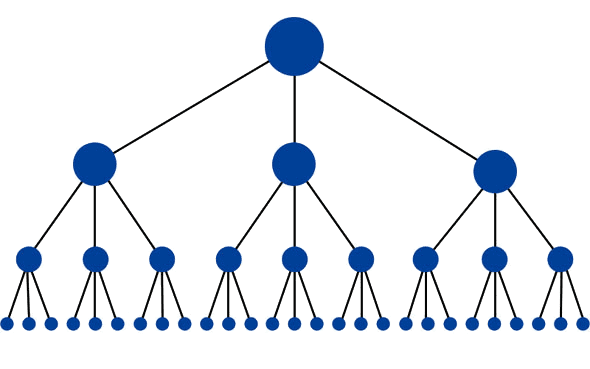 Pages with a lot of links on them pass on less value per link than pages which only have a few, so don't go mad and try to link to dozens and dozens of pages from every section of your site. Connect content that is relevant, and stick to a handful of internal links from each page to the related information.
Making sure crawlers can read your links
If your internal links are served in Javascript, Java applets, Flash or other similar plug-ins, it's likely they're completely inaccessible to search engines. Javascript links that do get read are likely to have been devalued, while links embedded in Flash and similar media formats are still a major stumbling block.
It's for this reason that using standard HTML links to connect your site pages is recommended.
When it comes to the number of links per page there are other things to consider than just the dilution of link equity, too. As well as knowing that 50 links on a page each pass less power than if there were only 10 links, be aware that search engines all have an approximate crawl limit of 150 links per page. Add any more than this and the crawler may not follow the additional links at all.
Best practice
Concentrate link value to the most important pages by streamlining your site navigation.
Organise your content around topics, and prioritise which pages get top-level focus and which ones will be found a few clicks down.
Keep user experience in mind at all times – good internal linking is designed to help human beings find and explore your content, not just search engines.
Use HTML links with descriptive, relevant anchor text.
Remember that without a good internal link structure, content that you've spent time and money on languishes in the form of orphaned content on your site, providing no return on investment. There are various best practice guides to internal linking around to help you keep things in check.
If you need help developing and maintaining a powerful internal linking strategy that allows you get the most from your content, get in touch.
Orphaned pages are pages on your website that aren't linked to by any of your other pages. If no internal links are pointing at a page, not only does it make it unlikely a site user will ever find it, it also means web crawlers like Googlebot may not find it either, and it prevents link equity from being passed along.
Link equity helps to show search engines that a page is important, so if none is passed it could appear that your content isn't important. If users can't find the page, it won't get read and won't convert, so might as well not be there at all.
When adding new pages to your site it's important to make sure you're also adding internal links to pages from other related content, to avoid creating orphans.
If you need to identify and fix existing orphaned pages, or pages which have become orphaned as a result of other content or links being removed, there are straightforward ways you can do this.
1: Make sure your sitemaps are up-to-date
Aside from the obvious fact that your pages are unlikely to get indexed if they aren't in your sitemap, having a sitemap that includes all the URLs on your site will make your life a lot easier when it comes to finding orphaned pages. To identify which pages aren't being linked to, you need to have a full list of which pages exist on your site in the first place.
If you're using Yoast SEO or a similar plug-in, your sitemaps will be updating automatically. If you're still using a CMS that requires manual sitemap updates, check with your developers to ensure the most recent version is live.
2: Find the orphaned pages using a crawling tool
The easiest way to find orphaned pages is by using a straightforward SEO tool like DeepCrawl or SEMrush.
You can use the search bar to find the orphaned page list, or look under Source Gap > Sitemaps > Orphaned Sitemaps Pages.
SEMrush's site audit tool files orphaned pages under 'Issues', and then 'Notices'. Here, you'll see a list of any URLs that appear in your sitemaps but which aren't currently subject to internal linking.
Both of these tools can also be connected to your Google Analytics account. The 'Orphaned Pages in Google Analytics' section for both tools will show you any orphaned URLs that are still being crawled – these are pages that are still driving traffic to the site.
If you're not sure that your sitemap contains all the URLs it should, in DeepCrawl you can also go to 'Pages Not in Sitemaps' and use filters to show only 200-code, indexable URLs with 0 links in from other site pages. These may be URLs that have been deliberately excluded, but you may also find URLs that need both internal linking and to be added to your sitemap.

3: Executing an internal link plan
Once you've downloaded a full list of all the orphaned pages on your site, it's time to filter through and see which pages need linking, which need redirecting and which need deleting.
A common cause of orphaned pages is the creation of temporary pages such as seasonal sales or promotions, which aren't removed once the event has ended. There may also be older versions of pages that should be redirecting to a newer version, which may put you at risk of keyword cannibalisation.
Low-quality or expired pages which aren't ranking and bringing in traffic should be removed or redirected to suit, while useful pages that serve a purpose and offer value to the user should be linked wherever possible across your site.
Put together a link plan, listing which URLs need links pointing to them and which pages and anchor text these links can come from.
Once you've plotted out which pages should be linking to your orphans, get the links in and live as quickly as possible.
Other notes
If you don't have access to SEMrush or DeepCrawl, you can also find orphaned pages using a slightly more manual exercise through ScreamingFrog's SEO Spider. Simply download the full URL list from your sitemap and then use ScreamingFrog to crawl your site from the homepage.
ScreamingFrog works in the same way as Google and Bing – by following the links it encounters as it goes along. If there are no links to a particular page, ScreamingFrog won't find it.
Put your sitemap URL list and ScreamingFrog URL list into one spreadsheet and check for duplicates. Any URL it hasn't found, and therefore is not duplicated, is an orphan.
Check for orphans regularly
Even if you've meticulously resolved all your orphaned pages and are moving forward with a thorough internal link plan, it's still possible that a future audit will flag new or different orphaned URLs.
If you aren't confident in doing your own site audits, Ad-Rank can help you monitor and resolve everything from orphaned pages to status code errors. Fill in this quick form to get a free SEO audit of your website.
There are a whole host of SEO factors at play when it comes to how well your website ranks in Google, and depending on which industry you're in, some will have more impact on your search rankings than others. Google analyses each search query to establish which ranking factors are most appropriate, but research has shown that there are certain things which should be considered a priority, regardless of your sector.
Here are the key SEO ranking factors to think about when optimising your site for search engines in 2018.
Content
Content and links are the two most important factors for ranking in Google. But simply throwing a load of content onto your website is not enough to make it rank well. For content to be beneficial, it must:
- Be relevant
- Be well-written
- Be comprehensive
- Contain optimised images
The quality of your content also directly influences a variety of other, smaller ranking factors, from click-through rate to bounce rate. The better the content, the more likely people are to visit your pages and stick around once they arrive.
Long-form content tends to do better in search results, because it contains more information about the subject at hand than shorter pages and articles do. That said, there's no point adding unnecessary words to a page just to try and bulk it out. Look for opportunities to explore fewer topics in greater detail, and find and fix any thin content issues that already exist on your site.
Whatever content there is on each page, it needs to be well-written and it needs to serve a purpose. Search Engine Land says quality content "is based on an understanding of your audience, as well as keyword and user research. (It) helps the reader complete one specific task,(and) features an enticing call to action or clear next step."
Find out more about how to produce quality SE-optimised content with Search Engine Land's checklist.
Links
Much in the way that high-quality content actually ticks a number of ranking signal boxes, so do high-quality links. Having a tonne of backlinks alone was once enough to give site pages a boost, but now the impact counts on link authority and link diversity as well as the actual volume.
One good thing about great content is that it naturally attracts backlinks. To do well in search, you want to be getting as many links as possible from a range of authoritative domains. Produce content that people want and need – that is naturally worth sharing and referencing – and you're off to a good start.
Keeping on top of disavowing spammy links, as links from low-quality websites could do more harm than good and put you at risk of penalties.
For more information on Google-friendly link building techniques, take a look at Backlinko's Link Building Fundamentals.
Mobile User Experience
As Google edge closer to making their index mobile-first, details like mobile UX and page load speed are factors all marketers should be paying attention to. A one-second delay in page response time can result in conversion reductions of up to 7%, and if people do make it onto your site, poor mobile UX can be caused by everything from buttons that are too close together to images that don't resize.
Help avoid slow mobile load times by minifying code, compressing images and reducing redirects. It's also worth avoiding Flash, which isn't available on iPhones. It's up to you whether you use a responsive site design or a separate mobile configuration, but not optimising for mobile is simply not an option.
Find out how mobile-friendly your site pages are using the Google Mobile-Friendly Test, and if you're in need of some pointers in where to start optimising, take a look at Moz's Mobile Optimisation Guide.
HTTPS
Google announced right back in 2014 that HTTPS was going to become a ranking signal, and many browsers will now serve up a 'not secure' or 'unsafe' warning when a user tries to open an unsecured page. If anything is likely to scare people away from your site, it's a big bold warning telling them their browsing data isn't secure and that they're 'unsafe', so switching to HTTPS ought to be a no-brainer.
HTTPS stops people's usernames and passwords, among other things, being sent over an unencrypted connection. It's crucial for internet user safety and an important switch to make not just to help your search rankings, but to show that your site is trustworthy. Ahrefs's HTTPS basics has more information on the topic.
Other things to consider
Keep up to date with Google. It seems obvious, but holding a finger to the pulse can prevent any nasty surprises – whether that's a sudden drop in rankings or a full-on Google penalty. Google's algorithms are updated on a small scale pretty regularly, but when major changes (like Panda and Hummingbird) are brought in, you can expect to see an announcement.
Regularly running SEO audits of your site will help you to stay on top of any technical issues that could be affecting performance, such as 404 and 500 code errors, duplicate content and orphaned pages. The healthier your site is overall, the better it's going to do in search.
Key areas to focus on for SEO
To recap, the most important ranking factors to keep in mind throughout 2018 are:
- Quality content
- Powerful links
- Mobile UX
- HTTPS set up
Team these up with regular technical checks and fixes, and you're setting up building blocks for boosting your site's SEO.
If you'd like a free SEO audit of your site or would like to discuss intelligent content strategies, don't hesitate to get in touch.